The conference venue:
University of Turku, Department of Teacher education, Rauma campus
Street address: Seminaarinkatu 1
Zip-code: FI-26100
City: Rauma
Country: Finland
The conference is hosted by the University of Turku on the Rauma campus of the Department of Teacher Education. Established in 1896 the Rauma campus has over 120 years of experience. Rauma has long traditions in teacher education and Craft, Design and Technology teacher education.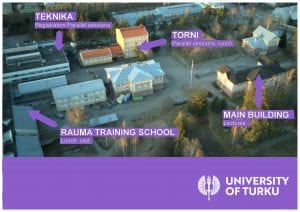 ---
Rauma, Finland:
The city of Rauma is located by the west coast of Finland offering a beautiful archipelago. Rauma is a picturesque cultural and industrial city with approx. 40 000 residents. There are two UNESCO world heritage sites: The Old Rauma and Sammallahdenmäki. Rauma is also known for being one of the traditional lace making capitals of the world. We even have our own language (the very distinctive Rauma dialect). Read more about the city of Rauma: https://www.rauma.fi/en/, https://www.visitrauma.fi/en/
Ol niingon gotonas! (Make yourself at home!)