Navigating Housing on Your Journey to UTU!
One of the biggest stressors I encountered when I decided to move to Finland was finding a place to live. How do I find an apartment in a foreign country where I do not speak the language? Luckily, the University of Turku has the Student Village Foundation, TYS, that gives students easy access to hundreds of apartments. Some near and even some apartments farther for those students with a need to distance themselves from the university in their time away from studying. The housing situation in Turku is good, but it is always best to start looking in time.
The Student Village Foundation – TYS
TYS offers cheaper rates than private rental companies, since the apartments are catered towards university students. For international students, Student Village Foundation TYS has been a lifesaver in my opinion since students are able to have an apartment lined up, furnished or otherwise, before they even set foot in the country!
Read on to learn about my experience with TYS and about some of the accommodations I have had a chance to visit, though there are many properties within TYS that I have no knowledge of, other than that they are just as fantastic!
Choosing a house
I have always been extra particular about the location and affordability of my rental housing choices, since in my undergrad in Lincoln, Nebraska, I paid nearly 900€ per month for room and board, which I couldn't even use during holidays or when the university wasn't in session! As such, getting the best possible option for me was the most important, and I wanted to be first in line for a newly renovated apartment at the Student Houses, YO-Talo. Although any apartment from TYS would make an excellent option for students of all backgrounds.
Luckily, the housing offered for students in Turku are year round contracts, making them different from traditional student housing options internationals might be used to, where you live in a small 10m2 room with another person and a common bathroom shared with the whole floor. Much like my own experience living in a dorm provided by the university in my undergrad at UNL.
YO-Talo is strategically placed for students like myself who'd like to milk every minute of sleep in the morning as possible if given the chance (I tend to wake up 10 to 15 minutes before class, hurriedly put on clothes and run to class just in time for the course to begin, especially the 8:30am courses…which I would not suggest for everyone). Located near TYY (the Student Union office), Assarin Ullakko (a student restaurant with student lunches costing only 2,70€ like at other student restaurants!), a swimming hall, local student pub Proffa with wonderful happy hour prices, and the Turku School of Economics, as well as a nice 5 minute walk from Educarium and Publicum where I'd spend most of my days studying. YO-Talo was the best option with Student Village East and West a close second.
Student Village is on the other side of the motorway and has cheaper options for those students who'd like cheap, community like living, while still being within 5 minute's walking distance from the university and other amenities for offer, like shopping and restaurants, which in my case would have worked out perfectly as well since most of my friends live there or Halinen just beyond Student Village.
Is it hard to keep track of all building names? Take a look at the Campus Map here and it will be easier to follow. You can zoom in, so you see the building names and where they are located.
Finding the place for you depends on the circumstances. Halinen and Räntämäki are excellent locations for those who like to live with roommates or have significant others living with them, since the housing dimensions are bigger than certain areas of Student Village East and the Student Houses. The apartments tend to be bigger, meaning the price is also a bit greater than the small dorm-like accommodations available elsewhere.
The Halinen apartments are also recently renovated, making them an ideal option for those who love living in more modern accommodations, and many of the apartments have their own dishwasher (I'm so envious of this fact!), which is missing in many of the other locations.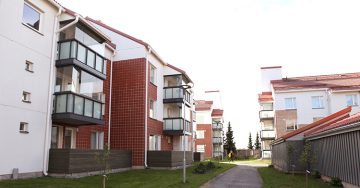 Apartments farther away from the university are perfect for those who prefer to be on the move with public transportation and find commuting in the morning to courses relaxing. Getting to the university takes anywhere from 10 to 20 minutes with no transfers, just a bit of walking from the Hämeentie bus stop. Monthly bus cards are only 38€ for students, giving access to Kaarina, Lieto, Naantali, Varissuo and other small cities in the Turku Proper. Hämeentie also has shops, restaurants, and even an Iittala outlet, with buses running frequently for easy access to most parts of the region, particularly to the city center and areas with student housing locations.
You can also check out the housing options that the city of Turku has on their web site.
Starting the application process early
Starting the application process 3 months before arriving in Finland is essential. Moving-in in August requires the application to be submitted in May and September move in submitted in June. For me, I was planning to move in mid August, so applying for an apartment in May was the best option. Since Lincoln is 8 hours behind Finland, I was able to apply at 4pm CST or midnight Finnish time to get my application in as soon as the portal opened.
The application did not take too long and asked for enrollment and personal information, much like any application. In the application though I was able to select my first choice apartment and have an option to add multiple locations as second and third options. The TYS office sends information packets to students upon their acceptance into their chosen programs, which should have already arrived in early April. This packet was of high importance for me when I chose where to live and gives handy information for those who have never visited Turku or UTU prior to actually moving there.
Usually the offer for an apartment comes the month before move in. I received my offer to YO-Talo on the first week of July with a week or so time to accept or ask for a new option. During this time the deposit of approximately 300€ is also due. Discussions with my tutor helped me decide that the Student House apartment was perfect for me, though a bit more expensive than I would have cared for. But, in the end I decided to accept it and have never regretted my decision because of the ease of access to everything Turku and UTU have to offer. But anywhere within TYS would have worked out perfectly as well, since everything is relatively near.
---
Chat with our current students
Chat with our current students!
Last updated 29 July 2022.
Search similar blog posts by categories and keywords: