Konferensen har tre huvudtalare: Mel Y. Chen (U.C. Berkeley, USA), Kim TallBear (University of Alberta, Kanada) och Alyosxa Tudor (SOAS University of London, Storbritannien).
Mel Y. Chen is Associate Professor of Gender & Women's Studies and Director for the Center for the Study of Sexual Culture at the University of California, Berkeley. Their 2012 book, Animacies: Biopolitics, Racial Mattering, and Queer Affect (Duke UP, MLA Alan Bray Award), explores questions of racialization, queering, disability, and affective economies in animate and inanimate "life" through the extended concept of animacy. Chen's current book project concerns relationships among the conceptual territories of toxicity and intoxication and related histories of the shared interanimation of race and disability. Elsewhere, Chen writes on slowness, gesture, inhumanisms, and cognitive disability and method. They co-edit a book series entitled "Anima" at Duke University Press and are part of a small and sustaining queer of color arts collective in the Bay Area.
Kim TallBear
 is Canada Research Chair in Indigenous Peoples, Technoscience & Environment, Faculty of Native Studies, University of Alberta. She is the author of Native American DNA: Tribal Belonging and the False Promise of Genetic Science. Building on lessons learned about how settler states engage in biological colonialism, Dr. TallBear also studies the colonization of Indigenous sexuality, including compulsory monogamy and the imposition of state-sanctioned marriage. She combines anthropological approaches with community-based research, arts-based research, and performance. She co-produces the Edmonton decolonial sexy storytelling show, Tipi Confessions, modeled on the popular Austin, Texas show, Bedpost Confessions. Tipi Confessions has also appeared in Ottawa, Saskatoon, and Vancouver. Shows are planned for Toronto, Winnipeg, Seattle, and New Zealand. Dr. TallBear is a citizen of the Sisseton-Wahpeton Oyate. Follow her work and that of her lab at www.IndigenousSTS.com. She also blogs at www.criticalpolyamorist.com. You can follow her on Twitter @KimTallBear and @CriticalPoly.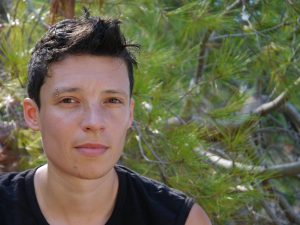 Alyosxa Tudor is a Lecturer (Assistant Professor) in Gender Studies at the Centre for Gender Studies at SOAS, University of London. Their work connects trans and queer feminist approaches with transnational feminism and postcolonial studies. Alyosxa's main research interest lies in analysing (knowledge productions on) migrations, diasporas and borders in relation to critiques of Eurocentrism and to processes of gendering and racialisation. Alyosxa has published on these topics with Feminist Review, Lambda Nordica and Gender, Place and Culture and is the author of the monograph from [al'manja] with love. In the past, Alyosxa was a LSE Fellow in Transnational Gender Studies, a Senior Teaching Fellow at the Centre for Gender Studies, SOAS, and a Visiting Fellow at GEXcel, Centre of Gender Excellence at Linkoping University/Sweden.