The current global events from environmental crisis, challenges of free trade, and digitalization to the Covid-19 pandemic, Russia's invasion in Ukraine, and USA's announced government support for green transition for domestic businesses have brought trade policy as one of the core themes in news and public discussion. Particularly the firstly mentioned longer-term developments have generated an emerging theme in international business studies, encouraging scholars to further explore the interconnections of international business and policymaking. This trend has been strengthened by the more disruptive and sudden events. For example, the leading journal in international business research, Journal of International Business Studies, has established a sister journal in 2018, Journal of International Business Policy, which aims to advance the contributions that international business research could make for policy development. Thus, extending this line of work, we have published an edited book titled Global Trade and Trade Governance During De-Globalization: Transforming Trade Policy for Not-So-United World. The book was written in international collaboration and edited as a part of a three-year KAPPAS project funded by TT-säätiö (www.utu.fi/kappas). Besides this contribution, the project (2020–2022) has advanced trade policy expertise in Finland particularly though public business-oriented seminars and the establishment of new trade policy education in Turku School of Economics at the University of Turku.
Based on this emerging call for understanding international business phenomena in relation to international and global geoeconomic and (trade) policy developments, our book takes a fresh and much needed perspective on the challenges of trade policy by exploring the past, present and possible futures for trade policy development. First, looking back in time, the book discusses how we got amidst the current challenges. Second, the book discusses the current global scale challenges on trade policy, and third, exploring the possible future developments of trade policy. Thus, this book goes beyond merely describing disruptions, but also builds images of the futures of trade policy. Furthermore, by taking the perspective of international business studies, the book does not only focus on the economic, policy or legislative perspectives, but views trade policy as a part of society and international business environment. Therefore, it constitutes an interesting read for international business researchers as well as businesses and policy makers.
The first part of the book provides the basis for understanding the prerequisites of open trade and multilateral agreements, allowing us to understand how those objectives were originally pursued and how the conditions gradually changed to support the emergence of protectionism. The widening scope of research in the intersection of trade policy and international business has been developing hand in hand with the values driving trade policy in our societies from enhancing free trade to defending human rights, sustainability change, and democracy. It is evident that the protectionist policies and free trade supporting policies emerge in different circumstances. The role of clear hegemonic power in global economic development is crucial, and changes in these power games challenge our prevailing global trade policy structures. Thus, the first part highlights the complexity of change in global governance structures and their interconnection to the developments of ways of doing business.
The second part of the book focuses on current challenges. These challenges include global level structural challenges of the WTO at the heart of the developments of global trade and international relations, the increase of multidimensional RTAs and their role in decreasing current lock-in situations as everything would not have to be widely and unanimously agreed, and the changes driven by GVCs requiring systemic redesign to meet the new global trade reality. Challenges at the regional and national levels include the increased tensions and economic power competition between the USA and China, the negotiations of Great Britain's divorce from the EU bringing similar tensions within Europe, as well as the perspective from smaller economies that are increasingly forced to take sides and find their ways through crises in different ways.
The third part of our book explores the emerging new future of trade policy. While values and trade policy objectives may be increasingly diverging, one of the converting topics at global scale as well as regionally, is environmental protection, which is among the key issues the EU unitedly wants to push forward also at the global scale. The globally acknowledged climate crisis has provided some common ground for policy making and has created space for common goals, yet the ability to influence third party commitment to change via trade policy tools includes risks and uncertainties that vary by country and industry. Thus, from the perspective of international business and individual companies, these future policy uncertainties increase political risks of international operations. Policy makers are challenged with finding ways to promote economic growth together with other values, and this complexity and uncertainty call businesses to seek new measures for having an impact on trade policies in the future. This multipolarity and multivoicedness makes global trade policy development, let alone anticipation, highly challenging.
Although the world today is not so united in terms of values, agreements and governance frameworks, it will inevitably continue to be united in some ways and in some constellations. New kinds of institutions and emerging agreements will pave the way for hopefully brighter and more sustainable future. This opens an opportunity for international business research to increasingly internalize insight from international politics in order to develop theories as well as managerial and policy recommendations that correspond with the increasingly complex reality of international trade and business. By embracing this challenge, we as international business scholars will have increasingly solid grounds and wider insight for contributing to the emerging next chapter of our societies, economic structures and global business dynamics.
Book available for purchase through Springer: https://link.springer.com/book/10.1007/978-3-031-13757-0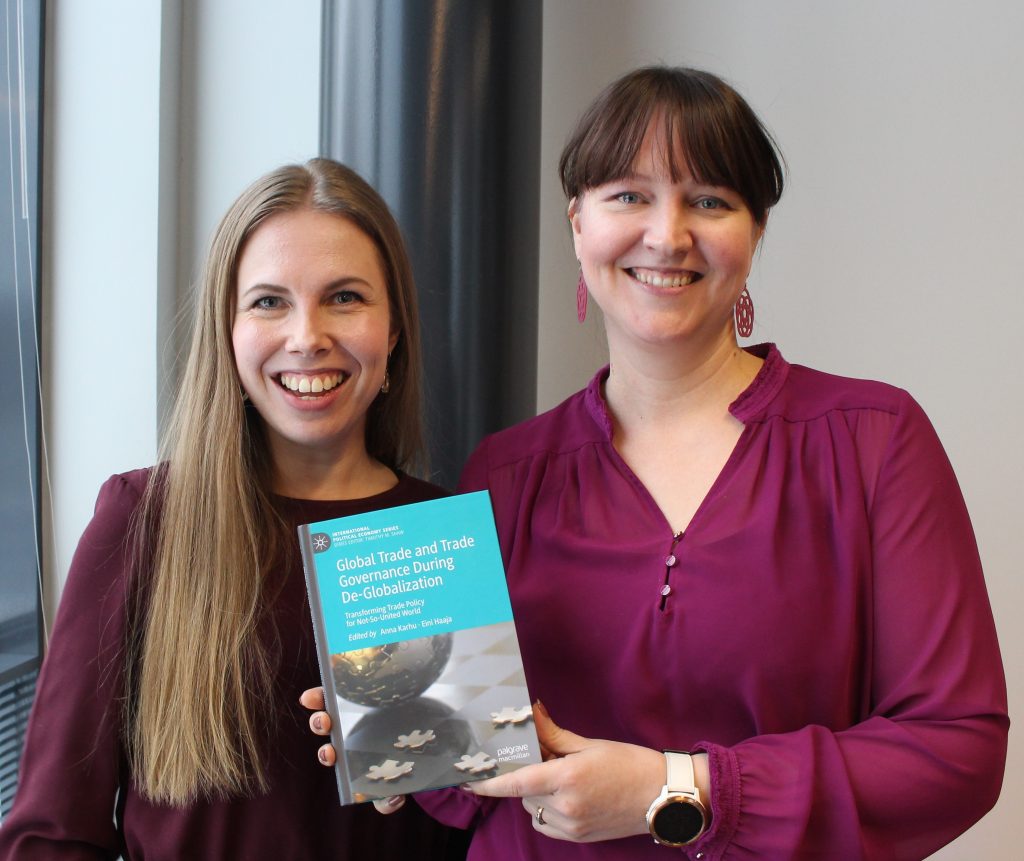 Anna Karhu & Eini Haaja
Pan-European Institute