ResQU2 Project Platform: Knowledge sharing and co-operation increase maritime emergency preparedness
The Baltic Sea is a busy sea. At any given minute, about 2000 vessels are operating year in, year out. This increases the risk of a major incident at sea or in ports, especially when chemicals are involved. In the worst-case scenario, a chemical tanker collides with a passenger ship. The ResQU2 project platform improved the emergency preparedness of rescue authorities and services, seaports, and other authorities in the Baltic and the North Sea regions. 
Importance of swift rescue operations: common guidelines, procedures, and exercises
The risk of a major accident at the Baltic Sea is real. In addition to potential collisions, hazardous materials stored and handled in ports are of high-risk, especially when they coexist next to residential areas. An accident in a port would expose a large number of people to different airborne substances, such as toxic clouds. Both collisions and land-based accidents may well grow to be large-scale incidents requiring rescue capacities from several countries. Joint rescue operations can be successful only if authorities have the capacity to work together.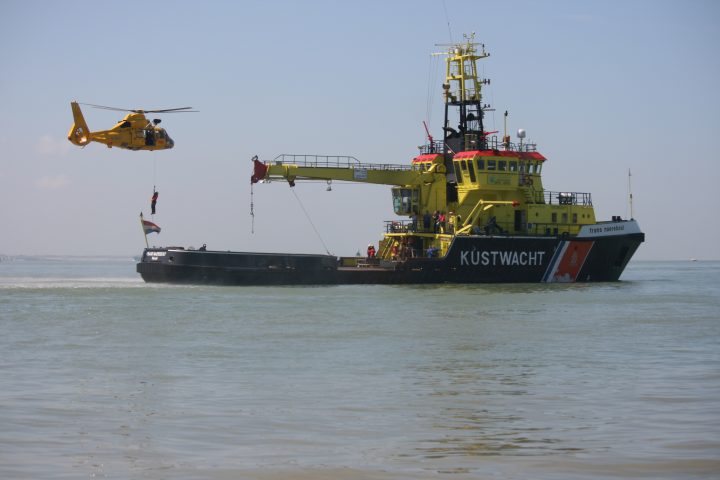 The ResQU2 project platform aimed at further implementing the solutions developed in the ChemSAR, HAZARD, DiveSMART Baltic and MIRG-EX projects in practice. The projects had created guidelines, operational plans and procedures, and performed exercises to improve incident handling at sea and in ports. The main objective of the platform was to increase rescue authorities' and services' emergency preparedness and reduce the effects of possible large-scale incidents. Any large incident at the Baltic Sea usually touches more than one country as no country alone has the resources to tackle major incidents on their own. Thus, it is of the utmost importance to share best-practices and to plan and exercise the procedures in a transnational context already in advance. All four projects had concluded that capability to handle maritime emergency situations improves if one knows available competencies and resources, and performs regular joint exercises in international constellations, using the common guidelines and procedures.
Communication, discussion and demonstration as tools to raise awareness and increase rescue capacities
The ResQU2 partners worked towards their goal by communicating, discussing and demonstrating learning experiences and best-practices discovered in the projects. In different workshops, seminars, meetings and webinars, ResQU2 partners demonstrated created solutions, enabled peer-to-peer discussions, and even offered opportunities for some regions to take stock of their own potential and development needs. The topics of the events covered, for example, capitalizing experiences gained on emergency preparedness, building up maritime incident response capacity, preparing for emergencies at sea and in ports, and crisis communication. Additionally, workshop discussions with experts, questionnaire responses and performed interviews helped to further investigate how transnational rescue operations could still be reinforced.
An International coordination group for emergency preparedness set in motion
It is a great challenge to increase rescue capacity to work in a transnational environment, and the improvement takes place solely in case there is co-operation and knowledge of other organizations as well. To enhance coordination of scarce resources, ResQU2 undertook to formalize the co-operation and constituted an International coordination group for emergency preparedness to maintain this capacity. To enable this, it introduced a policy paper to improve further safety at sea within the Baltic Sea area by co-operation in order to share and transfer knowledge of each other's competencies and resources. The policy paper is applicable to the long-term management of any chosen area within emergency preparedness. It was piloted in the diving community to facilitate the setting up. However, it would be only natural to include other search and rescue (SAR) functions as well, so the paper is adaptable to emergency preparedness in general. The idea of joint management of rescue resources was initiated in the DiveSMART Baltic project.
The most valued outcome was getting to know one's peers
ResQU2 events reached hundreds of professionals in several countries, even beyond the Baltic Sea Region. In addition to rescue authorities and services, officials from such international actors as EMSA, HELCOM, EC, NATO and IMRF were involved in ResQU2 events. This resulted in that gained knowledge, skills and expertise spread further increasing the level of know-how and capacities in maritime SAR operations and large-scale international exercises. Still, one of the most valued outcomes was the possibility to get to know one's peers and their resources in other countries. This is the knowledge that needs to be maintained and knowledge that may help save lives one day.
ResQU2 in a nutshell
The ResQU2 Project Platform stands for "Enhancing the durability of learning experiences gained in ChemSAR, HAZARD, DiveSMART Baltic and MIRG-EX projects on guidelines, operational plans and procedures, and exercises related to incidents at sea and in ports". ResQU2 was a co-operation platform of the four named projects. Three of them were EUSBSR Flagship projects under PA SAFE or PA SECURE co-financed by the Interreg BSR programme, and the MIRG-EX project funded by DG ECHO. The project consortium comprised 10 partners from eight countries: Estonia, Finland, Germany, Latvia, Lithuania, Poland, Sweden, and The Netherlands. These partners played a key role in their respective projects. The Centre for Maritime Studies was the lead partner and the Turku School of Economics participated as a project partner.
More information
ResQU2 https://blogit.utu.fi/resqu2/ or in Twitter @ResQU2Platform
ChemSAR created operational plans and procedures for maritime search and rescue in hazardous and noxious substances (HNS) incidents
DiveSMART Baltic increased preparedness and efficiency in underwater operations by formalizing an international board of divers from the BSR countries
HAZARD aimed at mitigating the effects of emergencies in major seaports in the BSR, the rescue services from different countries shared best practices in hazardous materials incidents and port's risk management
MIRG-EX brought together four Maritime incident response groups, i.e., firefighter teams trained specifically to respond to incidents onboard ships
Author
Kirsi Laitio works as Education Manager at the Centre for Maritime Studies of the University of Turku.
Sources
Featured image: ResQU2 information and expert networks were of  support, for example, to Estonia in starting up their own maritime incident response group (MIRG). International MIRG operations were exercised in ChemSAR and MIRG-EX projects (Photo: The Finnish Border Guard).