M/S Haveri Exercise for Volunteers Inspired the OIL SPILL Team Visiting Naantali, Finland
Oil spill response exercise M/S Haveri (transl. M/S Shipwreck) was held for volunteers in a leading position in Naantali (FI) on 8 March. Risto Paukku (Finnish Red Cross) and actors from other Voluntary Rescue Service organizations had prepared M/S Haveri carefully. OIL SPILL Project Officer Heta Hyvärinen from the Finnish Red Cross made sure the event also benefits the guests from OIL SPILL Partner organizations.
Rescue Chief Juha Virto from the Southwest Finland Emergency Services opened the day at Luolala fire station. He underlined the importance of being prepared for long-term operation – 12 hours is great but not enough. Virto's last point was that volunteers and their know-how are really needed in this mission.
M/S Haveri was a tabletop exercise that covered four days of oil spill response. Tabletop exercises are practical training sessions in which team members discuss and go through their roles during an emergency. The idea is to clarify the roles and responsibilities, maintain proficiency and preparedness, and identify possible needs for improvement.
The Finnish volunteers and facilitators started the exercise by forming teams, each with a different area of responsibility (e.g. logistics or human resources). Soon, the first day of the fictional oil spill accident dawned and the first alerts of the oil spill were noticed.
Meanwhile, the international OIL SPILL group gathered upstairs and introduced themselves and their respective organization.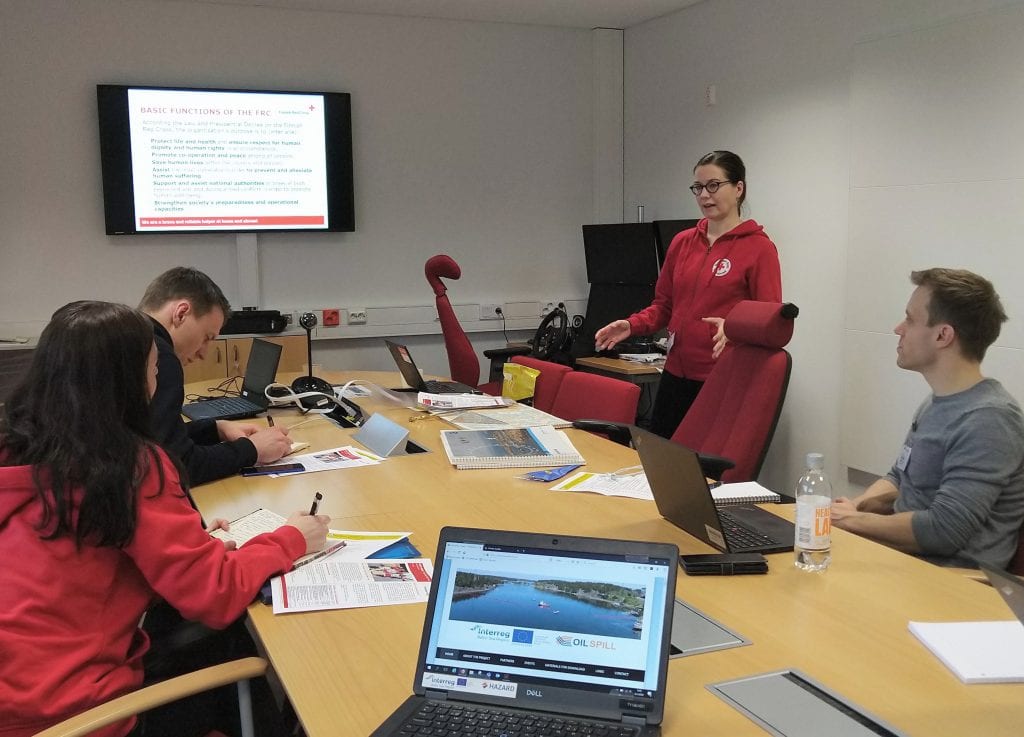 M/S Haveri has hit a group of underwater rocks on the eastside of Vepsä Island. […] 55 cubic meters of heavy fuel oil spilled into the sea before the emergency service could boom the ship. Due to the south-east wind, oil has drifted to the shores of nearby islands.
The group got a chance to visit each team, make questions and observe their activities.
Kia Petersen from the Danish Civil Protection League was impressed by the Finnish volunteers: "It was great to see how the volunteers of Finland work together to really get the best out of everyone during an oil spill." She was also inspired by the Finnish Voluntary Rescue Service and how different organizations have created such a strong network of volunteers.
Later on, the OIL SPILL group discussed and compared the practices in each country: Would the volunteers be called in to support the authorities or not? Where would the control center be established..?
Many differences were noticed, and it will be interesting to see if, how and which practices get transferred and adapted between the Project Partners during OIL SPILL.