My story: How strategic volunteering paved the way to a career at the University of Turku
Interested in building a career in Finland? Learn about how our international alumni Kristaps Kovaļonoks built a career in Finnish higher education at his alma mater through persistent volunteering, networking, and more.
It is my belief that humans are fundamentally the same, but it is our dreams and actions that lead us down various paths in life. While some prefer to organize their lives by the minute, others are more carefree and accept life as it comes. By the time I was in high school, I thought I had my life figured out. I planned to study abroad, work hard, and one day work as a diplomat at an embassy or as a conference interpreter at one of the numerous EU institutions.
While some of my plans have altered over the years, some of my high school dreams have come true. The high school version of myself naively had no clue of the journey I was about to embark on, but had planted the seed of a career in Finland in my heart. My study abroad adventure began little over three years ago, and so much has happened since then!
In a nutshell, my journey at the University of Turku (UTU) began as an international student with a passion for volunteering, which lead to building a career at the university. I currently work as a Planning Assistant in the newly formed Partnerships and Strategic Engagement unit. My responsibilities include working as a project assistant for the Research Assessment Exercise (RAE), supporting international partnerships, researching international university ranking performances, assisting activities related to talent attraction and retention (Talent Boost), event planning, and many more. In fact, a majority of my colleagues nowadays are the same people I met through my volunteering activities over the years. And today, I'm thrilled to share with you my story of how I got here in the first place.
Who am I?
To give you a quick rundown of my background, I am a Latvian expat who has lived in Turku for the past three years. My love for Finland, on the other hand, dates back to high school, when I discovered my interest in the Finnish language. In fact, foreign languages and cultures have excited me for as long as I can remember. For this very reason, one could say that I pursued my education in a somewhat unusual way.
My bachelor's degree was in Finno-Ugric Studies at the University of Latvia, with an emphasis on Finnish, Estonian, and translation studies. Later on, I worked in the fields of marketing and IT, where I utilized Finnish as my primary working language. However, it was at that point when I realized that something needed to change in my life – I wanted to push myself even further. And so, I decided that in order to completely immerse myself in the language and culture of Finland, I needed to relocate there.
After getting accepted into the Master's degree programme in Finnish and Other Finno-Ugric Languages (SUMA) at the University of Turku, I packed my belongings and moved to Turku, Finland in August 2018. At first, moving abroad to study didn't appear to be a difficult task, especially because I had previously visited Finland several times – for summer courses, traineeships, and even exchange studies at UTU in 2015. But little did I know of the challenges that lay ahead!
After reaching Finland…
Settling down in a new country was no easy task. In Finland, students are required to create their own personal study plans. This means that all students, even internationals, are free to choose any courses they like. But it's not simple, especially when this is a new concept for many, and there are hundreds of courses to pick from, and most of them require registration in advance.
At this point, I also realized that maintaining the status of an international student would be difficult for me. My degree programme (SUMA) was taught completely in Finnish, which meant that all of my classmates were Finns and some of the courses were extremely challenging due to the language barrier. While I never had the opportunity to study alongside other international students, I did get to meet other internationally minded people through volunteering over the years. Oh, and finding work to support myself financially is a long story itself!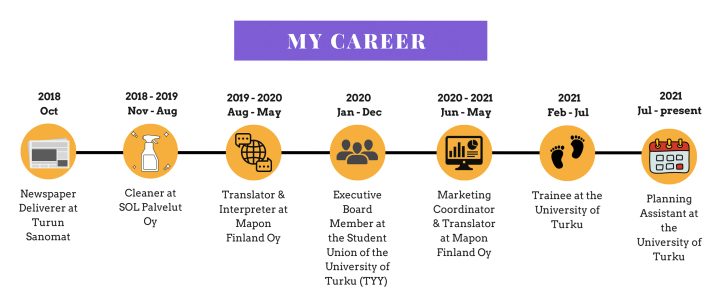 Finding a part-time job was exceedingly tough, and most employers never even responded. At the time, I couldn't figure out what was wrong because I already knew the local language well, had working experience, and my CV was up to date. Because things didn't go as planned, I had no choice but to resume my professional career from scratch.
My first job was as a newspaper delivery person, and I was responsible for distributing newspapers across Turku at night on a bike. The job normally began at 3 a.m. and ended at 7 a.m. After that, I hurried home, washed, ate breakfast, and raced to university for classes from 8:30 until 16:00. Student life is often referred to as the best time of life, but one seldom hears the harsh realities which include sleep deprivation, juggling studies and work, and even financial hardship.
My second job was as a cleaner, where I worked in assisted living facilities, nursing homes, casinos, office buildings, and stores, performing various cleaning responsibilities. While I disliked this job as well, the working hours were flexible, and I was able to get some studying in between. During this time, I realized I was far from my professional goals and needed to find new ways to be active, socialize, and build towards these goals. As a result, I began volunteering, which eventually led to better connections, possibilities, and job opportunities.
Volunteering and networking in Finland
From being an international student to volunteering and working at the University, I have done it all. Volunteering has several advantages and may help one grow in their job, especially in a country like Finland. Finland is an excellent example of a country where who you know is more important than what you know. Don't get me wrong: in Finland, a decent education and professional skills are highly respected, and a majority of positions in higher education require a Master's degree. However, the value of networking cannot be overstated.
The term "networking" has lately appeared in media and social media quite often, yet it may be difficult to define, particularly for individuals who are new to Finland, haven't had a chance to grow a good network or who are unsure how to use their network for advancing their career. However, after living in Finland for years myself, I strongly believe that being able to network successfully and building a network of reliable contacts who know you and your skillset are crucial to your job success.
In fact, I wouldn't be where I am today without Finland's excellent standard of work-life balance and the help of others – inspiring colleagues, mentors, teachers, as well as student tutors. Finland is known for having many hidden jobs, and for this very reason, it is beneficial to have a good and supportive network.
Furthermore, international talents, including myself, often find themselves in a situation where they don't necessarily fill all the requirements for a job description. However, it is crucial not to be afraid and still apply for the job – every interview is a learning process and one step closer to getting your dream job. Sometimes even the smallest things can play a big role when recruiters decide on which candidate to hire. In my case, a solid volunteering experience, a recommendation from an old Finnish language teacher or even a positive experience of attending a conference abroad have helped me to stand out in comparison to other candidates and get the job I want.
To sum it up…
Among all of my volunteering activities, I have been particularly devoted to developing strong international student presence, raising awareness of multiculturalism, and representing UTU in events abroad. Being elected to the TYY Executive Board in 2020 is one of my proudest accomplishments. I was only the second international student elected to the Executive Board of the Student Union of the University of Turku (TYY) in 98 years. However, getting involved in any volunteer activity in Finland is rather simple, as the country has a vibrant student culture and, quite literally, hundreds of student organisations. Through these enriching experiences, I am now able to identify and showcase the most crucial challenges and obstacles both international students and alumni are facing while trying to adapt, integrate, and build a successful career in Finland.
Working for my alma mater is a pure delight and privilege, and I am at a point in my life where I can now give back and help make a difference in the lives of people who are walking in my shoes. As a recent graduate and now a member of the University staff, I can say with confidence that the Southwest Finland region is fast expanding. Since I began my studies here, so much has changed! This region of Finland is undergoing rapid development, with several collaborations between higher education institutions and industry. I am excited to be a part of this thriving region, and look forward to how the higher education scene in Southwest Finland evolves over time. I end this blog with the note that I hope that in the years to come more and more expats aspire to build a career in Finland, like a young boy in Latvia once dreamed.
Read more