Top 10 things to do in Turku!
16 June 2020 by Jonathon Murphy and Anika Zabeen
Hi everyone! Today we're going to share some of our favourite things to do in Turku. Although life on campus at the University of Turku will keep you busy, the wider region has a lot to offer students as well. We encourage you to explore and make the most of your time in this wonderful city! Here are some recommendations to help you get started…
Ruissalo Island
One of my favourite things about Finland is how accessible nature is, even when you are living in the heart of a city. By taking a 15-minute bus ride to the island of Ruissalo, you can leave the stresses of modern life behind. I visit Ruissalo all year round and always find something new to do – hitting the beach in summer, hiking through the forest in spring and, if you are feeling especially brave, ice-swimming in winter. The island also hosts a 19th century villa, the University botanical gardens and a popular summer music festival, Ruisrock.
Cost: €1,70 for a student bus ticket. €5 for winter swimming and sauna.
Turku Bucket list: Take a selfie while ice-swimming and count how many likes your Instagram post gets (it will be a lot).
Turku Castle
If you enjoy history, then visiting the Turku Castle is a must. Turku Castle is a more than 700 year old historical monument. Its granite stone walls hold within them the history of Finland, Sweden and the other Nordic countries. The museum in the castle holds the proof how the Finnish culture and design have changed over time. During its history it has been a defensive bastion, a majestic court, an administrative centre, a prison, a storehouse and a barracks. The comprehensive exhibition of Turku Castle presents the castle's history up to the present day. The rooms of the Bailey are styled with periodic furniture, costumes and treasures of the museum's collection.
Cost: €5 entry for students into the Castle and the museum.
Turku Bucket list: Listen to the sounds inside the museum. Try to find a ghost in the castle (joking).
Turku City Library
Although UTU boasts several well-equipped academic libraries on campus, none are as beautiful to look at as Turku City Library. Originally built in 1903, the library added a modern expansion in 2007 giving it a unique architectural feel. International students are welcome as there is a large selection of books in English as well as other languages, allowing you to rediscover the joy of reading for pleasure as opposed to revising for an exam. If you have had enough of reading, the City Library also offers music, games and films – including classic Finnish movies with subtitles.
Cost: Free to join and borrow up to 20 items (as long as you return them on time!)
Turku bucket list: Check out an Aki Kaurismäki film and experience the dry humour of Finnish cinema.
Turku Cathedral
Turku Cathedral is considered to be Finland's most valuable historical monument. Every student and resident has taken a picture in front of it at least once in their lifetime. Dedicated to the Virgin Mary and Finland's first bishop, St Henry, the church was consecrated in 1300. Finland's religious history is reflected in this national shrine and is resting under the protection of the arches of bishops, captains and queens. The Turku Cathedral Museum, in the church's south gallery, takes you on a journey through history from the early 1300's. Displayed in the museum, among other things, are sculptures of saints as well as church silverware from the Catholic Middle Ages.
Cost: Free entry (although you can make a donation if you like)
Turku bucket list: Take a picture of the Cathedral in each season, print it and make a wall art.
Luostarinmäki Handicrafts Museum
In 1827, Turku was devastated by a fire that destroyed most of the city centre. Yet miraculously, one street survived, and its wooden buildings are still standing 200 years later as the open-air Luostarinmäki Handicrafts Museum. You can spend an enjoyable morning getting lost in the courtyards, dreaming about a more innocent time before we all got distracted by smartphones. For those interested in history, most of the handicraft workshops are staffed by artists who still use these techniques, and guided tours (in English) are also available. For everyone else, the vintage sweets available from the Post Office are highly recommended!
Cost: €4 entry for students. €2 for a bag of vintage sweets.
Turku bucket list: Find the dressing up box in the Sailor's House and party like it's 1799
Moomin World
If you love archipelago sites and want to go back to your childhood, then visiting the Moomin World should be on your bucket list. Moomin World is an enchanting blend of authentic archipelago nature and the fairytale creations of Tove Jansson. We recommend you dedicate at least a day for your visit – there is so much to see and do. From the Moomins' blue tower house, Snork's Workshop, Theatre Emma performances and the Fairytale Trail, to the swimming beach, Moominpappa's Boat and other fun places and activities to keep everyone busy.
Cost: €30 for adults, free for children under two years old
Turku Bucket List: Get a selfie with all of the characters
The Funicular to Kakolanmäki Hill
Great funiculars of the world – Paris, Budapest, and now Turku! In Summer 2019 the Turku 'Funikulaari' opened to the public, taking you to the top of Kakolanmäki Hill in a mere 45 seconds. Don't miss the beautiful panoramic view! The Funicular is a great addition to Turku's colourful local transport, which also includes the Föli bus service, Föllari city bikes and the Föri, a 100-year-old mini-ferry that crosses the Aura river several times a day. At the top of the hill is Kakola – a former prison that has now been converted into a mini-neighbourhood, complete with apartments, a restaurant and a brewery.
Cost: The funicular is free to use. €1,50 for a souvenir postcard from the Kakola giftshop.
Turku Bucket list: Use all four modes of city transport in one day.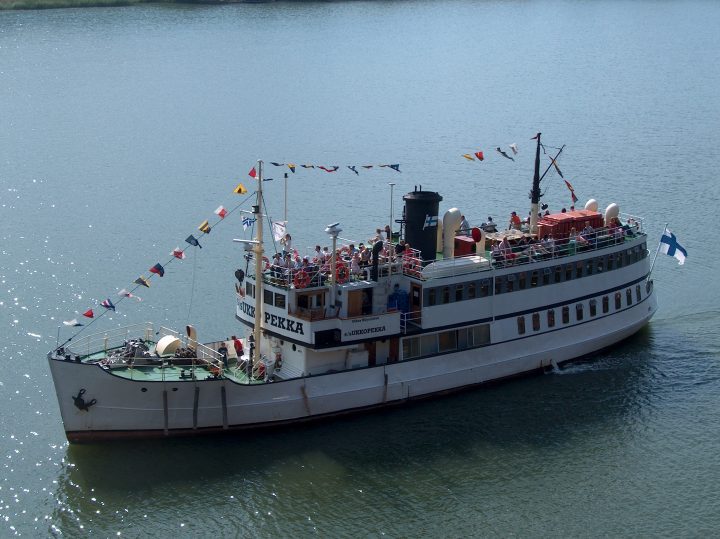 Steam Ship Ukkopekka
With the Baltic sea on your doorstep, and the river Aura running through the centre of the city, it is highly likely that you will find yourself on a boat at some point during your degree. Why not travel in style aboard the S/S Ukkopekka – the world's oldest functioning steamship (I'm not sure how they know this, but it's on Wikipedia so it must be true). Ukkopekka runs several times a day during the summer to the Archipelago or to the nearby seaside town of Naantali. Make sure to cover your ears when they blow the horn!
Cost: Return tickets start from €29
Turku Bucket List: Take part in a traditional Finnish tango dance on the tiny island of Loistokari
The Neighbourhood of Port Arthur
At the opposite end of the city to the student village, in both location and style, is Port Arthur (or 'Portsa' if you want to sound like a local). Portsa is best known for colourful wooden houses, narrow cobbled streets and generally being Turku's hipster district (naturally there are cocktail bars, second-hand bicycle shops and a record shop). Portsa even has its own alternative to the Cathedral in St. Michael's Church! Not quite as old, but in my opinion just as impressive. The river Aura runs parallel to Portsa and offers an enchanting walk back to campus.
Cost: €1,70 for a student bus ticket (although you can walk there). €11 for a cocktail. €2000 for a vintage bike.
Turku bucket list: have a summer picnic in Mannerheim Park (opposite St. Michael's Church)
WALO rooftop bar
If you are feeling like just to relax and enjoy a drink then go to Walo. Walo is the first rooftop bar in Turku, with the best city views. It is located on the top floor of Sokos Wiklund Turku. You can go there with friends or alone and enjoy a drink with a magnificent view. Walo is all about relaxed atmosphere, happy people and cheerful drinks. You can reach Walo Rooftop Bar with a scenic lift from the Coffee House Wiklund lobby.
Cost: Free entry. €4 for a coffee. €9 for a beer.
Turku Bucket List: Grab the best seats on the terrace to watch the sunset.
What do you think? Are you looking forward to visiting these places, or has something else in Turku caught your eye? Be sure to let us know using the comments below 🙂
Jonathon & Anika