I am writing this piece after a night of gales and storm over England, Wales and Scotland. The small bedsit I am renting for a writing-cum-walking retreat gives out to the sea (there are seals, I'm told, but I have not managed to see them), which is now surprisingly still. The sun rises beautiful and serene, lighting the surface of the water.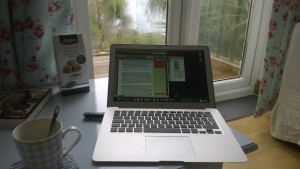 A change in the setting is almost always a good thing; especially if you do not need to worry about the routine tasks at home and are not tempted to start cleaning or washing to escape from writing. Obviously there are other temptations here: Cornwall is beautiful in the spring with its many daffodils. Did you know, by the way, that it was the building of the railway to Penzance in 1859 that made the daffodils from the Scilly Islands and Cornwall a major "export" to London? During the Second World War, though, land was needed for cultivation of food crops, and redundant bulbs were thrown into the hedges. This is why there is a large variety of different kinds of daffodils growing wild on cliff slopes and in woodland areas and hedges. This I learned from the Penlee House Art Gallery booklet accompanying a set of etchings of daffodils by Sally Corbet.

Apart from daffodils and their fascinating story, this tip of Cornwall has more history than what can possibly be digested during a short stay. Take the disused mines, old engine houses, eerie run-down towers and mine shafts in the middle of the heath and rugged cliff landscape. They all bear witness to Cornwall's past mining industry. By the early nineteenth century, Cornwall was the world's largest copper producer, but with copper being found in other parts of the world, the prices went down and tin mining came to replace copper. Historical sites in South-Western Cornwall also include the Porthcurno Telegraph Museum: this is where the first under-sea cable was laid between England and India in 1870. And you must not forget the arts: Cornwall is home to the Newlyn school from the 1880s and the St. Ives artist colony, whose famous resident included the Finnish painter, Helene Schjerfbeck.

I am staying in the small but extremely pretty village of Mousehole, which has a number of cafés for me sit in if I tire of writing or walking. My favourite one is Hole Foods Deli, but I have had my best scones at 2 Fore Street – just a tip in case you ever visit this part of Cornwall. There are pleasant surprises in other villages as well – both in the way of food and drink AND in literary/photographic/artistic sense, like the Cook Book café in St. Just. Their website and newsletter have nice photos with inventive captions of the surrounding people, flora and fauna.

To end with a rather triste, yet strangely consoling note: this morning I was moved to tears listening to the poet Clive James live on BBC on his life, impending death, and poetry. If you are interested, read this Guardian story.
I believe these thoughts on life and death, resurrection and hope, as well as the beauty and regenerative powers of nature are quite appropriate for Easter week. I wish all of our students and staff a Happy Easter!
Text and photos by Professor Outi Paloposki