Researcher mobility is an important part of academic life, although that "mobility" need not always be physical – as Mari wrote in her blog post in May, collaboration can take many forms.
This autumn term I was invited by our collaborator, Prof. Emer. Wendy Scase, to visit the University of Birmingham. She would mentor me during the 12-week visit and we would start working on a co-authored article. I would also spend a large part of my time in research libraries consulting early modern books for the project. Although travel restrictions have been lifted, the Covid-19 pandemic still has effects on daily life and some academic events are still being organised online. For these reasons, I followed my mentor's advice and arranged to stay in London instead of Birmingham so that I would have easier access to research libraries.
I arrived in the UK on 1 September. In London, my weekly routine mainly consisted of days spent at the British Library. I typically reserved one or two days for working from home, which allowed me to participate in events and meetings via Zoom both in the UK and in Finland, as well as to take some time to organise my library notes and photos, to work on research articles, and so on. I also briefly visited the Wellcome Collection and the Cadbury Research Library at the University of Birmingham toward the end of my trip.
Some of the research seminars weren't in full swing yet but I participated in both live and online meetings of the Centre for Reformation and Early Modern Studies (CREMS). I was invited to give a talk in mid-October. I'd like to thank my enthusiastic audience and the great questions and comments I received! The event took place via Zoom but the discussion was lively. In my talk, I gave a brief general introduction to the EModGraL project and then discussed some of my own research in more detail, including both solo articles and collaboration. The article project which was my main focus during this trip, in addition to my collaboration with Prof. Scase, revolves around handwritten annotation in books containing graphic devices. These were the kinds of books that I was looking for when working at the BL.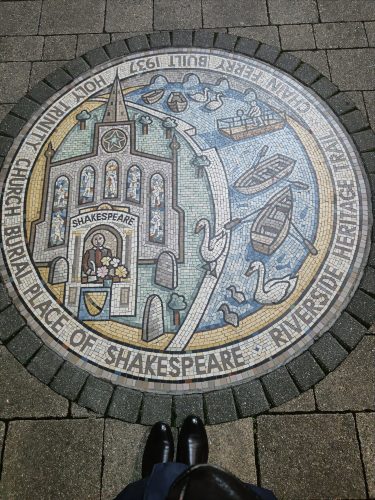 Not everything went as planned. The frequent rail strikes did not affect me as much as I'd feared, but I'm grateful that I decided to stay in London! However, I was meant to deliver another talk to a different seminar group, which had to be postponed to next year. It's a pity as I was looking forward to an in-person event at Birmingham, but at least we can maintain the connections over Zoom. I did meet some colleagues over lunch or coffee in London and in Birmingham – many thanks to everyone involved! – and got to attend all three wonderful Panizzi lectures on medieval diagrams by Prof. Jeffrey F. Hamburger at the British Library.
---
It was a curious time to be in the UK – to think that during my brief visit of just under 3 months the country had two monarchs and three Prime Ministers! And if the political climate was somewhat turbulent, the actual weather was slow to change; it was exceptionally warm throughout the autumn, with sunny days well into November. The temperatures of some 10°C didn't stop me from getting into a festive spirit toward the end of my trip as I visited a Christmas market in Birmingham and enjoyed a cup of mulled wine in Covent Garden. In the meanwhile, Finland had turned into a snowy Winter Wonderland and after an intensive research period it was lovely to return home in time for December. I had a lot of catching up to do and I'm now ready to wrap up the year.
On behalf of the EModGraL team, I wish everyone Happy Holidays and a Joyous New Year!
Text and photos: Aino Liira | Twitter: @penflourished
Follow us on Twitter!