The English Department makes traditional 'City Hikes' to Turku destinations. This time the goal was to be jazzed at the Wäinö Aaltonen Museum with their Tuesday concert series. The programme promised a treat by the duo of the jazz pianist Aki Rissanen and the Finnish jazz guitar genius Niklas Winter.
The (unexpected, unprogrammed) overture was Aki's solo consisting of a piece from Medieval French composer Guillaume de Machaut (d. 1377), followed by a part of the Finnish composer Leevi Madetoja's (1887–1947) Syksy (Autumn) series of songs. All in 'jazz'. Niklas tried to enter the stage after Aki's first number but was, convivially, only allowed to enter after the Madetoja piece.
The programme consisted of many compositions by the duo, some of which were dedicated to memorable musicians (J. J. Cale, Charlie Parker, Billy Strayhorn). The guitar and the piano played well together, and created a timeless sound world.

Aki Rissanen, piano, Niklas Winter, guitar. Photo: JK.
As to the etymological roots of jazz, then, it is a complex type of beast. With Western African origins, it can be said to have been brought to life and light in New Orleans (since the beginning of the 20th century). The 'exact' meaning is shrouded in innuendoes, ambiguities, and especially euphemisms. Subsequently, such an ambiance created a shrowd of unaccceptability (and also counterhegemonic prestige) for jazz for decades, some of which continues in its reception even in today's (self-acclaimed) uninhibited musical sphere.
There are myriad forms of jazz – and even more of its derivatives and fusions. The most familiar ones are perhaps Bebop, Swing, Big Band, and (maybe only by reputation) Free Jazz. Even a short list of major names of jazz performers and composers (or my meagre list of favourites) itself exceeds the limits of this platform.
Intertextually, 'jazz' may bring into mind Tony Morrison's (Chloe Anthony Wofford, born 1931–) historical 1992 novel Jazz, director Bob Fosse's autobiographical movie All that Jazz (1979), Henri Matisse's (1869–1954) art collage book Jazz (1947), or any number of other cultural artefacts. Be as it may, jazz is a state of mind.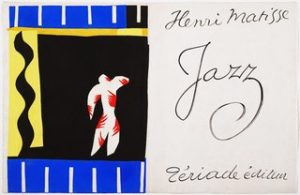 Henri Matisse, "The Clown" (1947)
Text and photo by Joel Kuortti