The English Department seems to be building up a special affinity with Galway. The ESSE conference last August was attended by quite a crowd (see blog post here); earlier last year I had the chance to visit the National University of Ireland in Galway as Moore Institute Research Fellow. And now I am back at the Institute for more research and networking in connection with a seminar on book history and translation studies.
There are a thousand excellent reasons to come back to Galway: the Irish are an extremely friendly people (and seem to share a number of things with Finns – maybe living at opposite ends of Europe makes for some sort of a bond?), Galway is an attractive and cosy town with an interesting history, and the University offers a vibrant intellectual atmosphere and a very warm welcome to visiting scholars.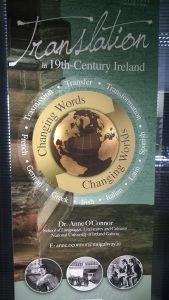 The conference "Book History Meets Translation Studies" was organised by Dr. Alice Colombo, a Marie Curie scholar in Galway, together with Dr. Anne O'Connor, who has just come out with a fantastic book on Irish translation history in the 19th century (see here) and Dr. Niall Ó Ciosáin, a renowned scholar of the Irish print culture (see here). The conference brought together researchers from different parts of the world and with widely varying topics, ranging from multilingual texts in 19th century North Africa to book illustrations, from Urdu scribes' manuals to publishers' archives. Katja Vuokko from our department gave a paper on Finnish translators' footnotes; I talked about the Tauchnitz series "Collection of British Authors" and the introduction of British literature in Finland. The keynote speaker was Prof. Norbert Bachleitner from the University of Vienna with a highly interesting paper on 18th century women translators.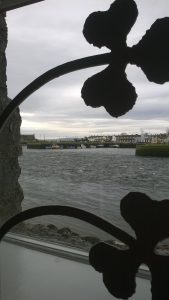 Apart from academic interests, Galway boasts a wealth of historical sites and places to see (and a very large number of pubs). In a street corner there is a statue of Oscar Wilde and the Estonian author Eduard Vilde, "a humorous quip on literary history". The original statue of the W/Vildes is in Tartu (sculptor Tiiu Kirsipuu); the copy was presented to the city of Galway to celebrate Estonia's membership in the EU. In real life, the two authors never met.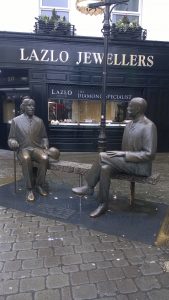 For me the most memorable place in Galway is Nora Barnacle's house in Bowling Green, where I was taken by my wonderful landlady Sheila (the museum is presently not open for public). This was the home of Nora, James Joyce's wife, and it is the smallest museum in Ireland with just two rooms and a backyard. Mary and Sheila Gallagher bought the house in 1987 and it is thanks to them that the house has been preserved and restored. The teatowel in the picture below celebrated the 1991 Bloomsday; one in the series of events organised by Mary and Sheila.
No research visit is complete without cafés and tea houses. There is plenty to choose from in Galway: Ard Bia at Spanish Arch and The Kitchen at the Galway museum are my favourites. A perfect way of combining work and leisure on a rainy day!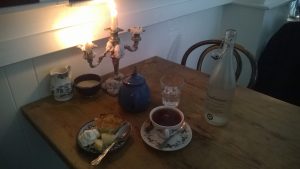 Text and photos by Outi Paloposki