One catch-phrase nowadays is that universities are dynamic. Indeed, there are many changes going on during each academic year. But there are also traditions that are valued by the academic community. For instance, the academic year has the opening ceremony in September and the graduation ceremony, publiikki, in June where new MAs are celebrated. In addition, professors give inaugural lectures when they are appointed. They also give a valedictory address when they retire as we have seen this spring with our Professor Risto Hiltunen (see earlier post)

.
Another academic tradition that the English department is following this year is that of a Festschrift. Festschrifts are commonly collections of articles published to honour a professor's (or another academic's) birthday or retirement. You can often recognise these when the name of a book says, for example, "essays in honour of". When Festschrifts are published as books, they usually contain articles by the closest colleagues, collaborators and former doctoral students of the honouree. It is also common that the books are thematic and related to the honouree's research interests. They may also include a biographical note and a tabula gratulatoria, which is a list of academic friends and colleagues who wish to congratulate the honouree.


A large part of universities' funding is based on the publications we produce. After all, university teaching is based on research, and professors and lecturers are also active researchers. For funding reasons, it is better to publish articles in refereed journals. This means that many Festschrifts have also changed into a different format. Journals and publishers sometimes allow Festschrifts to be published in their series.
This year, we have the pleasure to publish another Festschrift, this time to honour Professor Päivi Pietilä. The theme is language learning, which is approached from many perspectives in the ten articles in the collection. The collection is a special issue in the AFinLA-e publication series and available for free here. Importantly, the Festschrift is a surprise gift to the honouree, so if you sense an air of secrecy and whispers along the corridors, chances are there is a Festschrift in the works. This time, the secret was luckily preserved until the end; to celebrate Päivi's milestone in life, the editors gave her the manuscript as a bound golden thesis. With this publication, we want to congratulate Päivi and offer those interested in language learning many inspiring new studies to read.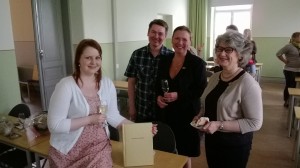 The editors of the journal special issue, Pekka Lintunen, Maija S. Peltola & Mari-Liisa Varila with Professor Päivi Pietilä, the Festschrift honouree.
Text: Pekka Lintunen
Photo: Janne Skaffari