Susanna Mäkinen defended her doctoral dissertation, Stability and variation in the genre of runaway slave notices in American newspapers 1704-1865, on Friday 20 May 2022. While the never-tiring doctoral researchers of the English department have produced quite a few dissertation and vivas to accompany them in the recent years, Susanna was the first one to enjoy the full traditional experience of a doctoral defense, complete with the opponent actually present in the same room and a karonkka (held at the iconic Turku Castle, an excellent choice of location by the way), since the beginning of the pandemic.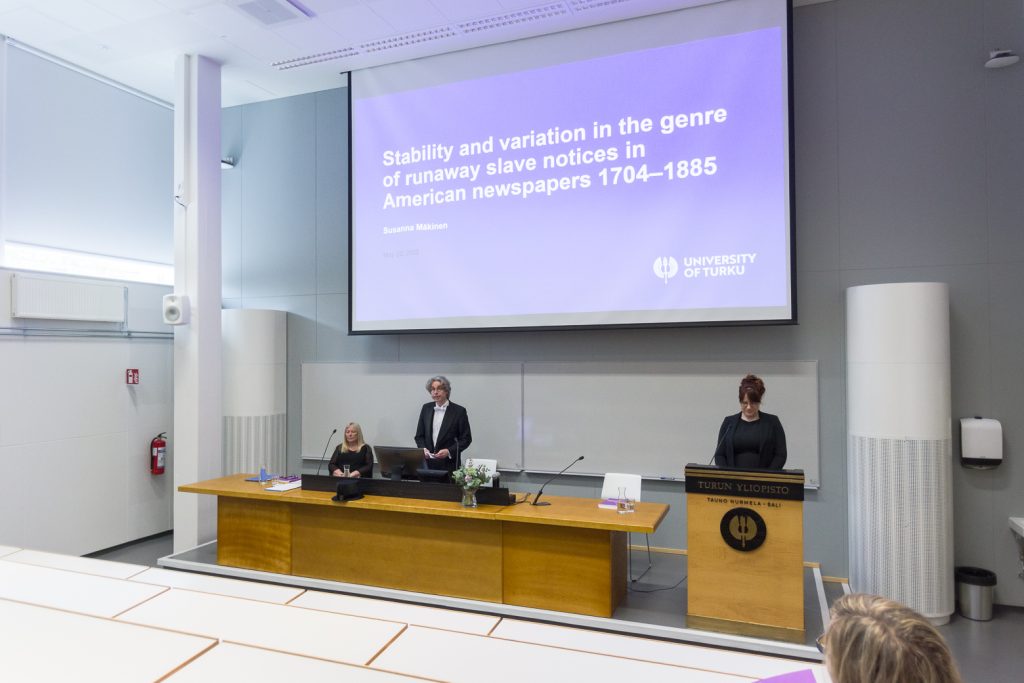 The viva took place in the Tauno Nurmela hall and drew in quite a crowd. The viva was also streamed on Echo for those unable to attend in person. The viva started right on time at 12.15, with Professor Matti Peikola as custos, even though the arrival of the opponent Professor Terry Walker (Mittuniversitetet, Sweden) had been slightly delayed (if nothing goes wrong, did the event even happen?).
With everyone present and accounted for, Professor Peikola welcomed everyone to the viva. Susanna delivered the lectio praecursoria, a short oral presentation of the research and its significance. Susanna and Professor Walker then proceeded to have a lively discussion on the dissertation. The discussion ranged from the terms used in the dissertation to the choice of a chapter title and the reasoning behind choices made regarding the material (which includes 2603 runaway slave notices), methods and analysis. While Professor Walker presented Susanna with several tough questions, Susanna handled them beautifully. The discussion was relaxed throughout the defense and both the opponent and the doctoral candidate seemed to truly enjoy themselves, which was a joy to watch. The discussion took about an hour and a half, but the time seemed to fly by (at least for yours truly, whether the candidate agrees is unclear at this time).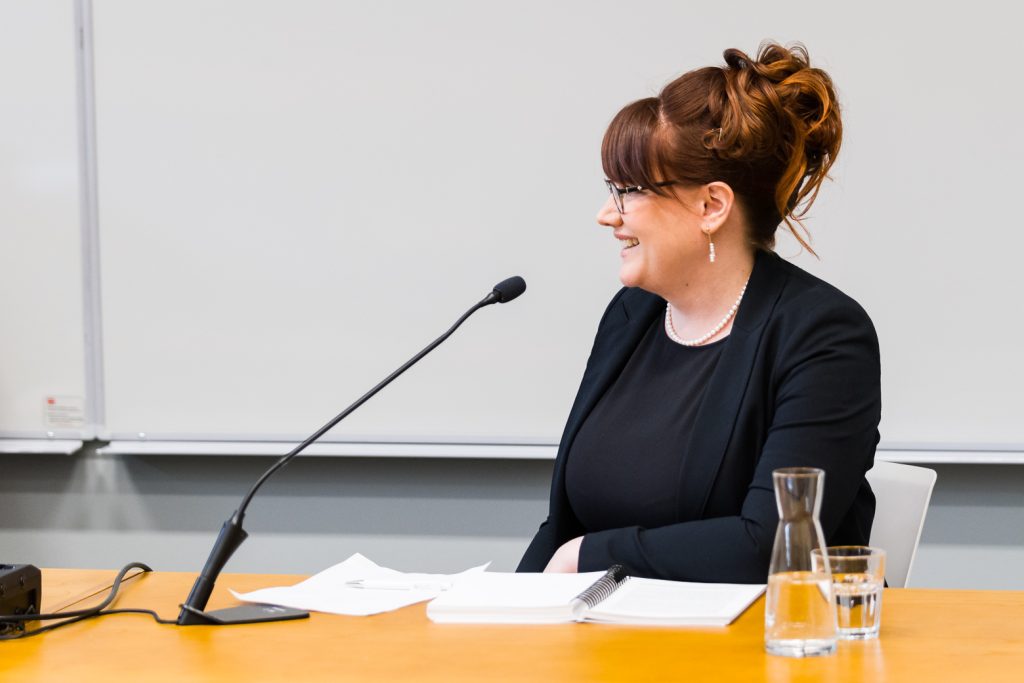 The viva marks the end of an often long and significant period in a researcher's life. Years of work has been poured into the dissertation, which is then publicly defended. When asked what she would do differently now that she has gone through those years of labor, Susanna lamented on her apparently less than ideal note-taking, but noted that when it comes to the dissertation itself, "I'm pretty happy with what I've done."
What more could a researcher at their doctoral defense ask for than a dissertation they are happy with? Not much comes to mind.
Congratulations to Susanna on this amazing achievement and the best of luck in your future endeavors! 
Text by Ida Meerto
Photos by Timo Savela