The second one of the two doctoral defences at the Department of English in the spring 2016 was Mehdi Ghasemi's "Quest/ion of Identities in African American Feminist Postmodern Drama: A Study of Selected Plays by Suzan-Lori Parks". The public examination of the dissertation took place at the University of Turku on 10 June, 2016. The candidate's performance in the defence was eloquent and he was able to justify his choices and elaborate on the points that he was requested to clarify. Despite it being a Friday afternoon in June, the defence was attended by more than thirty people – and it was conducted in an orderly fashion.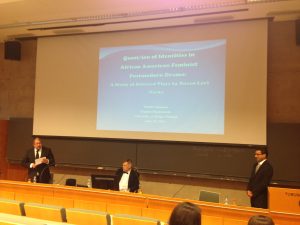 Mehdi Ghasemi's doctoral dissertation is a study of three plays by Parks from the standpoints of postmodern drama and African American feminism with a focus on the terrains that reflect the quest and question of identities for African Americans, especially African American women. The study is a reading of three plays by Suzan Lori-Parks – The Death of the Last Black Man in the Whole Entire World (1990), Venus (1996) and Fucking A (2000). Ghasemi's interpretetations of the three plays offer valuable insights on this understudied playwright and genre. Ghasemi argues that "Parks in these plays uses postmodern drama and African American feminism to encourage reflections on intersectionality in order to reveal the concerns of African Americans, particularly African American women" (p. i).
The opponent was Professor Jopi Nyman from the University of Eastern Finland, and Professor Joel Kuortti acted as custos. Professor Nyman posed demanding questions on the theoretical issues involved as well as on the particular analyses of the three plays. Mr. Ghasemi replied confidently, resulting in an engaging discussion that – judging from their reactions – was also appreciated by the audience. Finally, the opponent gave his final statement. There were no questions from the floor.
Mehdi Ghasemi is from Tehran, Iran and completed his MA on "Walt Whitman's Loud Voice of Democracy and Individuality" at the Islamic Azad University of Karaj. The dissertation is published electronically in the Annales Universitatis Turkuensis B419.
Text by Professor Joel Kuortti, custos