Another PhD defence in just under two months! A number of doctoral candidates of the English Department are now finishing their research projects. On 24 January, it was Laura Ekberg's big day.
Laura's research topic combines translation studies and literature and focuses on a phenomenon also studied in linguistics. As it happens, code-switching was at the heart of the previous viva as well. The title of her dissertation is Heterolingualism and Cultural integrity in Finnish Translations of Anglophone Caribbean Novels; it is available online. The members of Laura's team of supervisors were Outi Paloposki, Elina Valovirta and Joel Kuortti – who acted as custos – and the opponent was Professor Simona Bertacco from the University of Louisville. The viva started with the important question of which field of research the dissertation belongs to (answer: translation studies). Overall, we witnessed a remarkably friendly discussion by two experts, which really is the best kind of viva. The opponent found the material examined in the dissertation sufficient and representative and was very happy with what Laura had discovered and the poise with which she brought in multiple perspectives.
I attended the viva as Laura's colleague, a former teacher of hers, and a linguist with a keen interest in different approaches to code-switching and, more broadly, multilingual practices. Colleagues attending doctoral defences are always excited for the candidate, hoping their support radiates from the audience to the front of the room. Having known Laura since she was a BA student, I was happy about the confidence with which she brought together language, literature and translation – the three main topics of the Department – and about the fact that the varied training showed in the research. As a code-switching researcher myself, I was particularly interested in the recent campaign for not italicising code-switches in Caribbean literature, which goes against the common practice of separating the 'other' language from the main language of the text by using italics. Not italicising suggests that multilingual language use is not an aberration but something ordinary; there is no need to draw the readers' attention to it.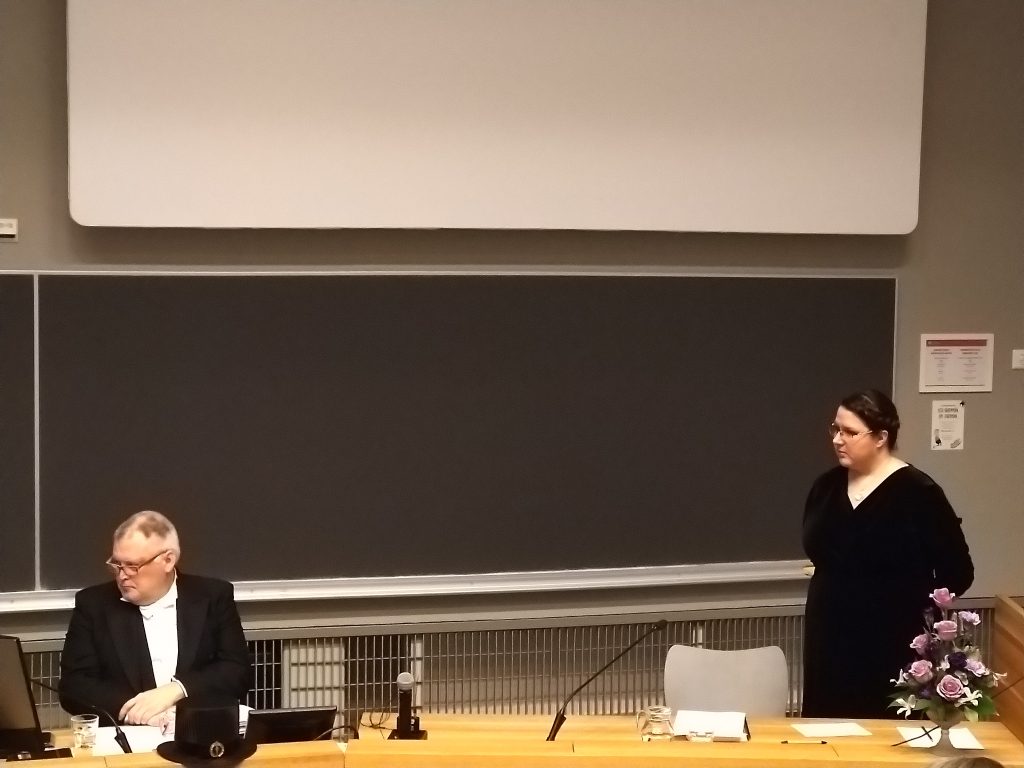 Laura said in the viva that she became interested in Caribbean literature in the MA thesis seminar. The things that catch your eye as a student may take you a long way.
Text by Janne Skaffari
Photos by Damon Tringham