HAZARD Video, Large-scale Exercise in Port of Turku, 28 November 2018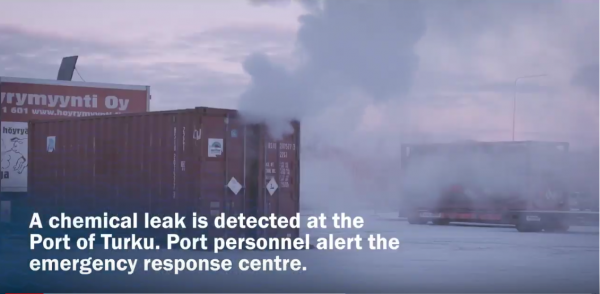 Newest addition to HAZARD videos has been published today. This video was made on the large-scale exercise in Port of Turku, 28 November 2018. HAZARD YouTube account and the video can be accessed through the following links:
HAZARD Large-scale exercise, Port of Turku, Finland, 28 November 2018
In this exercise, a chemical leak was detected in a container storing hazardous material. While checking the leak, the firefighters found in one of the containers around 25 persons, who didn't speak Finnish. Were they victims of human trafficking or asylum seekers who had illegally entered the country? The persons were contaminated with hazardous material, ammonia, and they had to be decontaminated before further actions.
Southwest Finland Emergency Services was responsible for the planning and execution of the exercise. The participating organisations in this exercise were the Southwest Finland Emergency Services, Emergency Medical Services/Hospital District of Southwest Finland, Southwestern Finland Police Department, the Finnish Border Guard and the Port of Turku.
This exercise set out to prove the importance of co-operation between different authorities in a realistic scenario, communication and co-operation being the key elements of the HAZARD Project.