Online Toolbox for Risk Assessment Methods in Seaports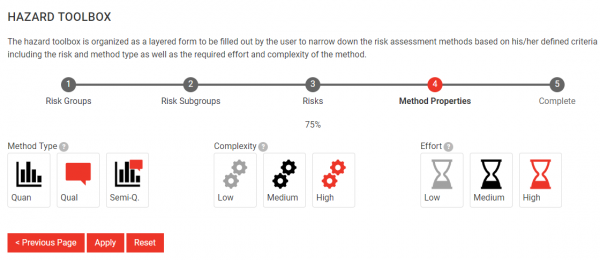 HAZARD Project's Work Package for risk assessment (RA) led by Hamburg University of Technology analysed the current state of RA in seaports using a comprehensive interview study. The interview study revealed that there is no standardised implementation process for RA in seaports. Stakeholders at the interviewed major Baltic Sea Region seaports use different methods for the identification, analysis and evaluation of risks. Therefore, an online toolbox for RA, based on the ISO 31000:2019 process for risk assessment was developed to provide an efficient access to RA methods for risks that could occur in seaports.
The online HAZARD toolbox, based on comprehensive literature review and interview studies, enables the selection of suitable RA methods that can be applied in seaports. Different workshops were carried out among the project partners to evaluate the applicability of RA methods as well as to validate the online toolbox. This dynamic toolbox enables its users to suggest new methods or update the current content, which also facilitates a continuous improvement process that is necessary with emerging risks.
The RA methods are explained using practical examples that can help stakeholders to make the process of risk assessment more understandable. The HAZARD toolbox is organized as a layered form to be filled in by the user. This is in order to narrow down the RA methods based on the user's defined criteria including the risk and method type as well as the required effort and complexity of the method. A user guide containing screenshots and structured steps is created to help stakeholders use the toolbox.
The HAZARD Online Toolbox can be found through the link https://hazard.logu.tuhh.de