Becoming a Fulbright Visiting Scholar has surely been one of the highlights of my academic career. For a Cultural Historian from University of Turku, Finland, this was an opportunity to reach out and embrace new connections, resources, and cultural experiences. Six months in a new setting gives a lot of opportunities for postdoctoral research, travel and networking. Cleveland (OH) turned out to be a revelation for a scholar interested in the cultural history of popular music, and popular culture in general. My own postdoctoral project is concerned with future imagining in popular culture, especially related to Science Fiction, and Transhumanism.I didn't choose Cleveland for touristic reasons, obviously. The place had a lot to offer for my research. First and foremost, the city hosts the Rock and Roll Hall of Fame, which, despite being perhaps a slightly outdated museum for the grand narrative of baby boomers' rock experience, still has interesting collections, and also facilitates a separate Rock and Roll Hall of Fame Library and Archive. Even if I was based to Case Western University's Center for Popular Music Studies, a lot of my actual research work took place in this wonderful archive and library.
Another, perhaps even more impressive archive, is just two hour drive away. Bowling Green State University (Ohio) has a Department of Popular Culture, established already in 1973, with the groundwork started in the 1960s, and they have ever since collected popular culture in various formats. There are actually two archives: Ray and Pat Browne Library for Popular Culture Studies, and The Music Library and Bill Schurk Sound Archives. These combined make the place the second biggest collection of popular culture in United States, only surpassed by the Library of Congress. In May 2017 I had a chance to stay in Bowling Green archives for a week, attending a Popular Culture Association Summer Institute, which mostly meant full on archival work, fuelled by discussions with other professionals of the field.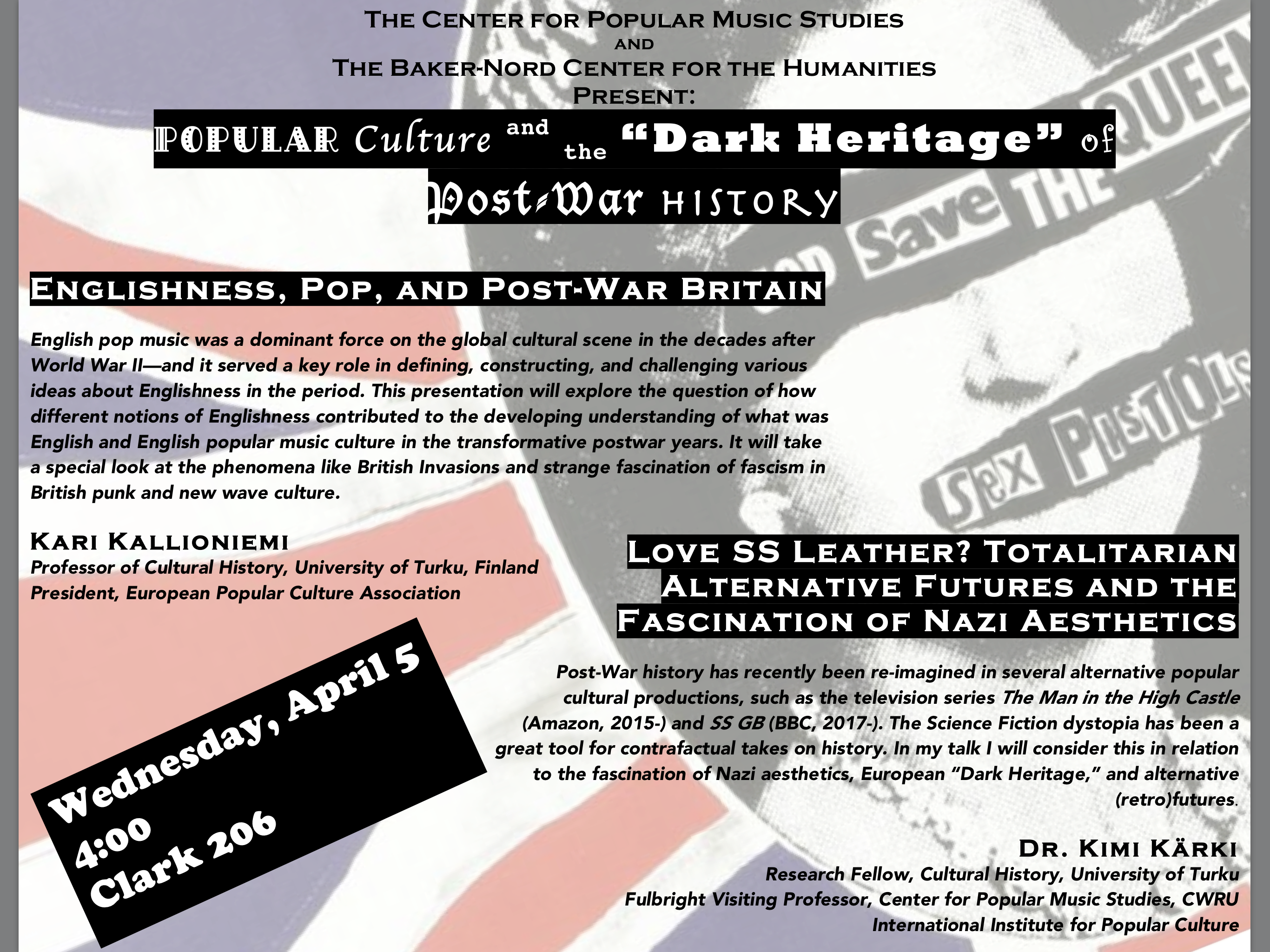 But a great Fulbright experience is also about getting to know the country. That in mind, I made a conference trip to Popular Culture Association/American Culture Association National Conference in San Diego a little bit unusual way. Traveling with a colleague, Professor of Cultural History Kari Kallioniemi, who first had come to Cleveland to give a visiting lecture with me, we first took a Megabus from Cleveland to Chicago, and from there Amtrak California Zephyr train to San Francisco. This is one of the crown jewel train rides out there. Three days, seven states… After the flatness of Illinois, Iowa and Nebraska, the mountains of Colorado, Utah, and Nevada offered unforgettable views; the rails followed Colorado river for more than 200 miles. And then the ascension to blossoming California crowned the ride.
We rented a car from San Francisco, and drove down to San Diego in two days, mostly following the legendary Pacific Coast Highway. Unfortunately the road was destroyed by mudslides near Big Sur, hence a bit of detour on Highway 101 was needed. But even despite minor setbacks this kind of journey really revealed the amazing variety of landscapes and lifestyles this country has to offer. The village of Solvangen, where we stopped for the night, turned out to be an utterly strange wine area kitch heaven, founded by eccentric Danish reverends in the beginning of 20th century. Garden elfs, a Hans Christian Andersen museum, vintage motorcycle museum, a wind mill, and several 'Danish' bakeries decorated this place that was also featured in the film Sideways (Alexander Payne 2004). It absolutely needs to be a target of a future research project!
The PCA National Conference is the biggest annual meeting of popular culture scholars, always taking over a hotel with thousands of participants. This time, in San Diego Marina, there were about 4000 of us, with topics covering every imaginable genre and practice of popular culture – for example adaptations, beer culture, cemeteries, fat studies, Jack London, medievalism, professional development, sea literature, Tarot, virtual identities, and westerns had their special multi-session strands. We were happy to notice, during the presidential meeting, that there is again a strong will for international collaboration within the PCA Board, which means we might get more delegates from USA for our future
European Popular Culture Association
conferences, including Prague in 2018. All three Finnish Cultural History members of the EPCA Board – Kallioniemi, Pekka Kolehmainen, and me – were promoting the future of European popular culture studies.
After San Diego, we headed to Los Angeles. It was a great chance to explore UCLA with Professor of Media Archaeology – and Turku Cultural History alumni – Erkki Huhtamo. He introduced us the UCLA campus in Westwood. My original plan was to give a visiting lecture there, like Professor Kallioniemi did, but instead I had to head to Minneapolis for a Fulbright Enrichment Seminar Feeding the World. That was one of the highlights of my Fulbright period, getting to know other Fulbrighters from around the world, and getting some very interesting angles to food history, production, and future – also some critical awareness included.
I gave invited talks on my research at Case Western in Cleveland, at Bowling Green State University, and Western University in London, Ontario. This last mentioned made it possible to do a family trip around lake Erie, crossing to Canada via Detroit and returning to USA via Niagara Falls. I was very happy indeed to have my family with me for 1,5 months – my wife Maarit Leskelä-Kärki, who works as a Senior Lecturer at Cultural History, had a possibility to focus on the writing of her new book while there. But life is not only research. This time in another culture was a big deal for our two children. We frequented a lot of museums and other places with meaning and beauty – and did a fair amount of local and long distance traveling. In addition to Canada, we visited Bowling Green, Montauk, New York, Toledo, and Washington. In my own free time I also played numerous singer-songwriter gigs in Cleveland folk scene, and trained a lot of Aikido in a good local dojo.